A dozen Romantic things to do in Berlin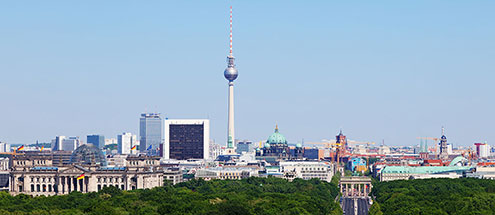 Fancy a romantic break with a difference? Berlin is waiting to welcome you! Germany's capital isn't one of the first places you might think of for an intimate getaway – Paris, Rome and Amsterdam usually top the list – but the truth is it has just as much to offer as any of its rivals, plus some special touches that are unique to Berlin. When you're in the mood for romance, atmosphere is all-important. That's what makes Berlin the perfect destination – it has an atmosphere that no other city can match.
Berlin is a much newer city than London or Rome, but it still has a lot of history. The oldest relics found here date from the 12th century, and the city's official founding date is 1237. By the 15th century it was an important trading town, and around this time it also became home to the Elector of Brandenburg's palace. Over the centuries the Electors grew more powerful, eventually becoming Kings of Prussia and finally the German Emperor, or Kaiser. Along with them Berlin itself grew and gained status, first as capital of Prussia and then of the united Germany. After a single interruption between 1945 and 1990 it's the capital of Germany once more.
Its years as a divided city didn't do much for Berlin's political status, but they had an enormous influence on its social scene. Surrounded by East Germany, and not technically part of the Federal Republic, Berlin soon became one of the liveliest cities in Europe. Berliners played huge roles in Germany's music and art scenes through the 1970s and 80s, and also became a centre of gay culture. That fun-loving spirit survived reunification and is still in full swing today. Many capital cities have a serious air about them, but Berlin is different. It has a massive appetite for life, and that makes it the perfect place to spend a romantic break.
When it comes to romantic destinations Berlin might not have the same reputation as Paris, but don't put too much trust in reputations; sometimes they don't match the truth! The fact is that Berlin is an incredibly romantic city, whatever your idea of the perfect date may be. From casual or quirky through to the most sophisticated venues, Berlin has everything. Here are some suggestions for your time in this amazing city.
Romantic Berlin - Things to do and places to go.
If you love culture you'll find plenty in Berlin. If your perfect date involves live music, strolling hand in hand through the park or relaxing in a luxury spa you'll find that in Berlin too. The possibilities are limited only by you and your partner's imaginations! Here are some of the most romantic places in Germany's greatest city:
Pfaueninsel Park

Also known as Peacock Island, this beautiful park is located on Pfaueninsel, a small island on the River Havel. There's a castle and a restaurant, as well as scenic picnic areas and plenty of secluded spots to wander at your leisure and get to know your delightful companion. Pfaueninsel is the perfect way to spend an afternoon; it's easy to reach by S-Bahn or bus, and there are regular ferries out to the island.

Tiergarten

This famous park in the very heart of Berlin is an old favourite with the city's couples. The third-largest urban park in Germany, it's more than a mile and a half long and contains miles of quiet paths where you can get away from the bustle of the city and enjoy some quality time in a beautiful setting. The Tiergarten – technically the Großer Tiergarten; there's a smaller Tiergarten not far away – offers you almost endless possibilities. Enjoy the peace of the boating lake, or relax in one of several Biergartens. And once you've had enough of the park there's plenty more to do within easy reach; Berlin Zoo is at one end, and at the other is the Brandenburg Gate with Unter den Linden beyond it.

Berliner Fernsehturm

Berlin has an open, accessible feel that most large cities lack nowadays, and that's mostly down to the fact that it has few high-rise buildings. The TV Tower is a stunning exception. Built in the late 1960s, its simple design could have become socialist brutalism but opted for timeless elegance instead. Visible from almost everywhere in Berlin, its slender profile is now a beloved part of the city skyline. It's also perfect for a romantic excursion. From the observation gallery more than 650 feet above Alexanderplatz you can see all of Berlin laid out before you. Why not enjoy an intimate meal in the revolving Sphere romantic restaurant while you're up there?

One of the city's more unusual attractions, this luxurious spa will make for a memorable date with your special someone. Liquidrom's centrepiece is a saltwater thermal pool under a dramatic arched roof, and its darkened cavern plays host to a lively programme of concerts, readings and other cultural events. There are also a range of pampering activities available – plus, for the open-minded, a traditional German sauna where nudity is compulsory.

Lichtblick Kino

This might be the most amazing retro cinema in the world. Daily showings of black and while films in their original language make it a movie buff's dream, but it's also a haven for romantics. Small and intimate – there are only a couple of dozen seats – it's also quiet, and makes for a unique twist on a classic date. A highlight of the programme is the weekly showing of Casablanca, the all-time greatest romantic drama.

Boat trips

With the Spree and Havel rivers, and a series of gorgeous lakes, Berlin has no shortage of water. Tour boats on the rivers are a popular and entrancing way to see the city, and you can also hire a smaller boat just for yourself and your companion. Sipping cocktails on the river as the sun drops behind Berlin's skyline will put you in the perfect mood for an evening of romance – and it's also a memorable setting if you have a question to pop.

The Brandenburg Gate

This has been mentioned a couple of times already, and it deserves its own mention. If anything is symbolic of Berlin it's the Brandenburg Gate. Well worth a look all by itself, it's also a great start point for an evening stroll down Unter den Linden where you can find a cosy restaurant. Of course the Gate, which for decades stood on the border between east and west, is also a symbol of unification. You may be able to do something romantic with that idea!
Special Occasions
As you'd expect from a city as lively as Berlin there's always something happening. If you just want to enjoy a quiet break with your partner that's fine; it's a big enough place that you'll always find a peaceful corner. But joining in the festivities can also be a lot of fun. Here are some highlights:
Christmas Markets

The annual Weihnachtsmarkt is a favourite everywhere in Germany and Berlin joins in enthusiastically. In fact you'll find more than sixty separate markets throughout the city, and they make perfect settings for a romantic evening. Wandering through the brightly lit stalls, keeping the frost out with mugs of Glühwein, is an almost magical experience. A very popular market is around the Kaiser Wilhelm Memorial Church, conveniently located between the Zoo and Ku-damm. Alexanderplatz is another, with ice skating and a spectacular decorated pyramid among the usual attractions. Perhaps the ultimate in traditional markets takes place in the grounds of Charlottenburg Palace, which offers the option of fine dining in heated tents run by some of the city's best restaurants as a romantic alternative to street food.

JazzFest Berlin

Berlin's annual November jazz festival is a high point of the year for fans of the genre. Multiple venues and hundreds of performers make for an incredible event; if you and your partner share a passion for jazz this is a perfect opportunity to explore it together.

Day of German Unity

This annual holiday falls on the 3rd of October and celebrates the reunification of Germany – and Berlin – after the enforced separation of the Cold War years. For Berliners reunification was an especially significant event, marked by the destruction of the notorious Wall, and more than two decades later the city is still rejoicing. The holiday is marked with a three-day festival centred around the Brandenburg Gate and the Tiergarten's Straße des 17. Juni, where you'll find live music, a carnival and an incredible party atmosphere.

Carnival of Cultures

For four days before Pentecost Berlin celebrates its rich cultural diversity. There's a huge street festival in the Kreuzberg district, with live music on open-air stages and a wide range of street acts to enjoy. It's an event that brings Berliners together, and also a great experience for couples to share.

Summer officially begins in Berlin on the 21st of June, and the city marks it with a huge open-air music festival. In fact the Féte de la Musique is celebrated in more than 340 cities around the world, but Berlin is particularly enthusiastic. Hundreds of bands, orchestras, choirs, DJs and solo musicians perform in the city's streets, parks and squares. It's a popular way to enjoy live music free, in a relaxed and romantic atmosphere.

Berlin International Beer Festival

There isn't an official German national drink, but if there was it would be beer. Berlin has its own local beer styles, including Berliner Weisse and Kindl, but Berliners aren't snobs; you'll find a huge array of German and imported beers in the city. This delicious variety is celebrated every August with a three-day festival along Karl-Marx-Allee, with hundreds of breweries offering more than 2,000 different beers. It's a huge, lively street party that shows off Berlin at its friendliest.

Musikfest Berlin

Yet another music festival, this time for classical fans; Musikfest marks the official start of Berlin's concert season, and attracts orchestras from all over the world. If you and your significant other have a taste for classical why not indulge it in one of Europe's finest venues?
Eating out in Berlin
There are few better ways to begin a magical date than with a good meal. An intimate dinner in the perfect surroundings sets the scene for the rest of the evening, and is also a classic opportunity for a proposal. What are the perfect surroundings? That's up to you! For some it's a classy restaurant, while others prefer more alfresco settings – street food, perhaps, or a picnic. Whatever your tastes Berlin has all the variety you could ask for. Maybe you already have a favourite restaurant in the city, or you can try out one of these top recommendations:
Ristorante A Mano

Rated as Berlin's #1 dining spot by TripAdvisor, this exquisite Italian restaurant is perfect for a romantic meal. It's sophisticated and classy, but in a welcoming rather than intimidating way, and the quality of service ensures you'll be able to relax and enjoy each other's company. As for the food, it's simply incredible. Ristorante A Mano is a must for seafood or pasta fans, and there's plenty more on the menu too.

Papilles

Located in the increasingly popular Neukolln district, Papilles is Berlin's most highly rated French restaurant. Its small and intimate interior is ideal for a cosy dinner with a special companion, and the menu – which changes on a daily basis – is packed with delicious surprises. This is a friendly and informal restaurant with a great atmosphere. It's also very popular, so booking in advance is more or less essential.

Bieberbau

No visit to Berlin is complete without sampling the local cuisine, and you and your partner will find some of the best modern German dining at Bieberbau. It's a little out of the way but easily accessible by taxi, and if you like imaginative twists on traditional recipes you're in for a treat. Bieberbau has a great atmosphere that will get an evening off to a wonderful start.

Marjellchen

Of course there are more traditional German restaurants as well, and if you enjoy well-cooked food in epic portions you're going to love Marjellchen. This place is as German as it gets, with a friendly family atmosphere that makes a meal as relaxing as it is filling. Marjellchen has a fantastic ambience and really lends itself to romance.

Saigon & More

If you and your date enjoy Asian food why not start your evening at Saigon & More? This top-end Vietnamese restaurant not far from the zoo is small, cosy and delightful – perfect for a couple to spend some quality time together. The food is incredible, and the service is discreet but attentive. It can be hard to get a table unless you book in advance.

Have a picnic

When the weather's nice Berliners head for the parks. Why not join them? You can share a picnic in the Tiergarten, or the beautiful grounds of the Charlottenburg Palace – and, thanks to Germany's enlightened attitude to drinking in public, there's nothing to stop you enjoying a bottle of wine along with it. As for the picnic itself you can pick up sandwiches and cake at any baker, or ask a hotel or restaurant to prepare you a classy hamper.

KaDeWe

If it isn't picnic weather why not try the famous food hall at Kaufhaus des Westens? KaDeWe is Berlin's most famous department store (and Europe's largest), with eight huge floors - and the top two are dedicated to food. The seventh floor's winter garden restaurant offers great views of the city. The sixth floor is more fun, though; it's a cheerfully chaotic maze of small, busy eateries, and has no less than four champagne bars that couldn't be better suited to a romantic rendezvous.
Romantic Hotels in Berlin
When you're enjoying a romantic break your hotel isn't just a place to sleep. You're looking for somewhere that helps to create the right atmosphere, combining style and luxury with a special something that only the best hotels can create. Mere comfort isn't enough; for romance you need a hotel that you can feel truly at home in. Some little extras, like a spa and a comfortable, intimate bar, are also nice touches. In the hotel bars you often find beautiful ladies sitting who are more often than not from an escort agency. No judging here – we all just want to have a good time.
Berlin has many outstanding hotels and there are various ways to find them, but we have a few recommendations if you'd like to consider them. Any of these will make an excellent choice for your romantic stay in the city.
Located beside the Tiergarten in the very heart of Berlin, Das Stue is perfect for anyone who wants to explore the city – but if you want to stay closer to home and enjoy the hotel's amenities it's also an excellent choice. Rated as Berlin's best hotel by TripAdvisor, Das Stue offers spacious and tastefully designed rooms with all the modern conveniences you could ask for. There's a spa with pool, and if you fancy an excellent meal without having to roam too far the Cinco restaurant will do very nicely. There's also a cosy bar where you can relax together at the end of the day.

Hilton Berlin

The Hilton Berlin is just a few minutes' walk from Unter den Linden and the Brandenburg Gate, and is very popular with visitors looking for easy access to the city centre combined with a high standard of service and comfort. Rooms are large and well equipped, allowing you to relax after your adventures in the city, and there's a very pleasant bar where you'll often find a singer or pianist. The Hilton name is one you can rely on, and Berlin's is no exception.

Kempinski's Adlon has been a Berlin landmark for more than a century. Standing grandly at the top of Unter den Linden, directly opposite the Brandenburg Gate, it's the flagship of the world's oldest luxury hotel chain – and as soon as you step inside you'll see why. The Adlon Kempinski's current building is new, but it's steeped in the history of its name and location. You'll enjoy first-class service in a luxurious setting, which always helps the romantic mood.

Grand Hyatt Berlin

Just off Potzdamer Platz and a short stroll from the Tiergarten, the Grand Hyatt is always a popular choice. It's well appointed, with luxurious rooms and plenty of amenities to make your stay special. There's a very nice spa if you feel like pampering someone, plus three restaurants and a pleasant bar too.
Getting Around
Another thing about Berlin is that compared to some other cities it's quite spread out. Unlike London or Paris the centre of the city has wandered around over the centuries, so its attractions are scattered around a fairly wide area. That makes walking everywhere a time-consuming option, but don't worry – there are plenty other options:
Public transport

Berlin's transport network is excellent. Unless you're a German speaker the easiest option is to rely on the U-Bahn (subway), S-Bahn (light rail network) and tram, which between them have almost 800 stops.

Taxi

It's easy to spot an official taxi in Germany – they're a distinctive beige colour, and many of them are still Mercedes. You're not guaranteed to get an English-speaking driver but as long as you're going somewhere well-known it usually works out. Uber is also available in Berlin.

Velotaxi

If it's a nice day why not take a ride in a velotaxi? These pedal-powered machines give you a great view of the city but have a roof to keep off any light showers, while the driver up front does all the hard work; you and your beloved can relax in the cosy back seat.

Cycling

Berlin is a great city for cyclists. There are close to 400 miles of cycle paths, ranging from dedicated lanes on main roads to scenic routes through the Tiergarten and other parks. Bikes can be easily hired in almost any shopping area.
It's impossible to do justice to Berlin without writing a book, but these suggestions should be a good taster for what the city has to offer. Of course there's much more to do, if you look around. Take a boat along one of the many canals, spend time wandering the museums that tell of Berlin's rich history or just roam the city with your special person, enjoying the carefree atmosphere of Germany's capital. Forget Paris; Berlin is the romantic heart of Europe, and your time here will be unforgettable for both of you.